Domestic Roofing Services
Broken tiles? Leaky guttering? Crumbling chimney stack or do you need a full roof replacement?
Our team of expert roofers are here to help.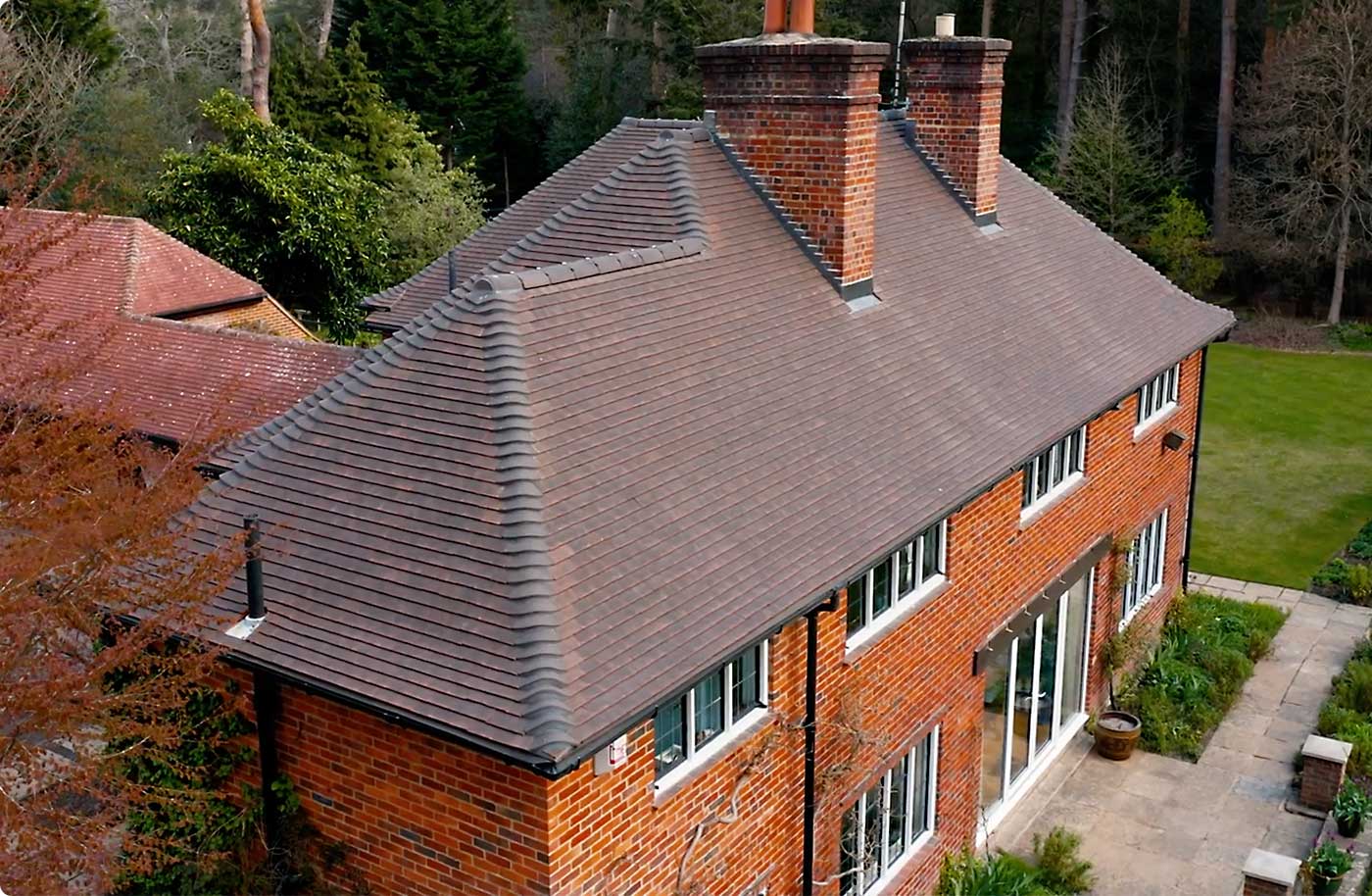 We've got roofs covered
Offering a comprehensive range of expert roofing services, you can trust Keay Roofing Services to keep your home warm and watertight.
We are a long-established roofing company with over 20 years experience behind us, who are very well qualified to carry out a high standard of work on flat and pitched roofs.
Whether we're removing moss, fixing damaged tiles, or installing a completely new roof, we will always give you open and honest advice based on our initial inspection and recommend the best course of action.
Our five star rated roofing teams cover:
Berkshire, Buckinghamshire, North & North West London, West London, South & South West London, South Hertfordshire, South Oxfordshire, Middlesex, Northamptonshire and North Surrey.

A solution for every common roofing problem
Relax, your roof is in safe hands.
High Standards
We conform to current NFRC requirements and standards and are committed to producing the highest standards of workmanship. Our tradesmen meet all Health and Safety requirements.
Customer Care
From start to finish we handle every aspect of your roofing project with care and respect to you, your home and your belongings. From a punctual arrival, to working in a clean and tidy fashion we keep disruption to a minimum.
Experienced
Our reliable team of roofers bring a wealth of experience to every job. Taking pride in their work, they deliver exceptional workmanship and are always on hand to offer honest advice based on their professional expertise.

"My experience with Keay Roofing Services was very good. The whole process from estimate, scaffold erection, roof work, scaffold strike and site clear up was carried out professionally and with good humour."
David P, 23 December 2020

"I used them again for a second time last week, and was delighted with the integrity and promptness of their work keeping my tenant and therefore myself free from anxiety following a roof leak. I have recommended their services to my closest friends as I know Keay Roofing Services will not let my reputation down."
Ed Waddleton, 25 March 2021

"The repairs to our roof were promptly assessed and were carried out efficiently, both with regard to the time period specified and in accordance with the itemised quote, including the erection and removal of the scaffolding required."
Claire D, 29 September 2020
Which types of roof do you install and repair?
We carry our roof repairs and installation for flat roofs, pitched roofs, tiled and felt roofs.
Are there any types of roof you do not cover?
We do not work on the following types of roofs:
Conservatories
Rubber roofs (EDPM)
Thatched roofs
Corrugated
Does home insurance cover roof repairs?
In most instance home insurance will cover the cost of roof repairs if the damage or destruction results from a sudden accident or act of nature. If repair is needed because of general wear or tear, neglecting to carry out general maintenance or the age of the roof exceeding its intended lifespan, it is unlikely insurance will cover reimbursement of costs.
How long does it take to receive my roofing quote?
Once we have received your enquiry, we will contact you within 24 hours to arrange a site visit at a convenient time for you, so that we can inspect your roof and assess the level of work required.
After this site visit you will receive a quote for the work within 48 hours.
How much does a new roof cost?
The cost of installing or replacing your roof will depend on several factors.
The style and type of roof you have.
The materials you choose.
The size of your roof.
Whether any structural damage needs remedying.
The cost of the labour needed to carry out the installation.
While it may be tempting to choose the cheapest options to keep the cost of a new roof low, this is very likely to prove a false economy in the longer term.
Poorly installed roofs are much more likely to be easily damaged and need repair earlier in their lives than those installed using high quality materials, by qualified professionals such as Keay Roofing Services.
We offer a free inspection, so that we can quote confidently, providing a clear and easy-to-follow breakdown of costs for each project. To request a free quote please get in touch.
Need help with a roofing problem? Speak to the roofing experts on 01753 358267
We're a local roofer you can trust
At Keay Roofing we pride ourselves on delivering high standards of workmanship and customer care for each and every project.
Clear and easy to understand quotes
Open and honest in all our communications
Committed to 100% Customer Satisfaction